Reading time: 9 – 15 minutes
Finally!  A Small, Handy, Readable Book on Achieving Huge, Outrageous Success
Too many people have developed a feeling of helplessness about their circumstances.  They've resigned themselves to a life of quiet desperation, living day to day on auto pilot, going through the motions in the hope that something, anything, will come along and change their situation.
This scenario plays out over and over again in the lives of millions of people around the world.
What about you?
Do you feel like real success in your life is too far off?
Are you frustrated about the time and energy you've put into making things better for yourself and your family, only to be pushed back down again and again?
Are you guilty or regretful about the past, anxious about the present and worried about an uncertain future?
If so then I want you to know two indisputable facts.
INDISPUTABLE FACT #1:  You are not alone.  There are so many people fighting the same good fight, climbing the same mountains and battling the same demons.  But fortunately for you, you've arrived here today.
Which brings me to…
INDISPUTABLE FACT #2:  You really CAN achieve the kind of success you've been dreaming about.  There is still time.  But you must do things differently, shift your mindset and stretch your comfort zone.  If you're willing to do those things, then you can accomplish pretty much anything.
Now here's where it starts to get very interesting, because I've put together a breakthrough book that is a refreshing new way of re-calibrating your success track without the fluff of those thicker, overwhelming, over-sized self help books.
Introducing…
iSucceed: secrets for the average joe and jane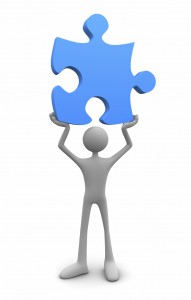 This book ties it all together, it's a success primer for the rest of us, a road map that cuts through all the detours, setbacks and pitfalls and puts you on a straight path to becoming the person you were meant to be.
Here are just a few of the discoveries you'll be making:
The

true value of gratitude

and how so many of us overlook it.
What prevents so many of us from achieving the success we want in life and how to overcome it.
Three of the best teachers when it comes to success and achievement.
How our vocabulary is helping or hindering us from achieving success.
The

basic laws of life

and how they apply to our success in life.
How to get more out of the time we have.
A new way to look at the people in our lives and how we can adapt to

achieve better results in our relationships.

A simple look at how to plan for a better future.
How to program your mind for success.
What pitfalls people fall into after achieving success.
…and much much more!
So what does success mean to you?
To some people success is a million-dollar business.
To others it is a comfortable job that allows them to spend quality time with their family.
Some people see success as a great family.
Others judge their success based on gold medals or championships.
The bottom line is that true "Success" is what you determine it to be.
For me success means being able to do what I want, with who I want, for as long as I want, when I want.
7 years ago I considered myself a success…
I was married to a lovely wife who loved me and stood by my side and a job that I loved which gave me a comfortable life. At the time I asked myself what more could a man ask for?
I would have said that this is the essence of a good life.
But a lot has changed since then. Things have happened in my life that have resulted in a total rethinking of the true meaning of success.
I lost much of my savings and stared death in the face during the 2004 tsunami in Southeast Asia. I was pulled underwater, swept away by the same current that killed 200,000 people, and literally did not know if I would live or die.  Miraculously I survived, and I am here today with a new lease on life.
When something like that happens it causes you to take inventory, to step back, soul search and put everything in your life into the proper perspective.
The problem is that most people wait for a catastrophic event to happen before they make real, lasting changes.  They go along, not thinking about how fragile and brief life is, and are only knocked into reality by some major life trauma, if ever.
You don't have to do this!
When you start to read iSucceed: secrets for the average joe and jane, you will quickly start to realize that you can be more proactive with your life's journey.
This is a book that is short enough for people to read but powerful enough to help make a serious positive impact in your life.
This is a book that introduces a bunch of the best ideas I've come across in my studies.
This is a book that's short and sweet, with wonderful, refreshing ideas on success and achievement as well as my own life experiences that have the power to make a difference in people's lives.
Prepare to devour this book and be exposed to mind stretching ideas and concepts that can radically change your business, your finances, your relationships and your future.
Here are some rave reviews: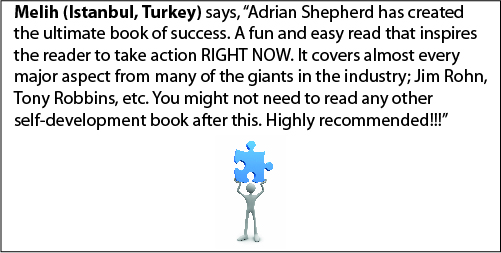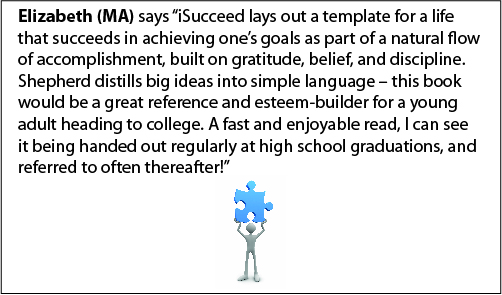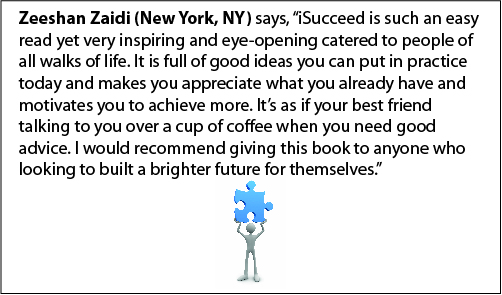 THE MOTIVATIONAL EXPERTS HAVE ALSO WEIGHED IN…

Let's Put all the Risk on Me: 
I Guarantee You'll Fall in Love with iSucceed
Take 3 months to read, learn from and apply the lessons of this book in your own life.  If you don't think that it's for you just let me know and I'll cheerfully return your money, no questions, no hassles, no worries.  Fair enough?
Click here (or here if you live in Japan) to reserve your physical copy.
For your ebook click here. (for the extra low price of $8.49)
And if you're a Kindle user click here.
If that weren't enough, I'm throwing in some incredible BONUS GIFTS!
Just to sweeten the pot and make this a no-brainer for you, I am also throwing in some of the best ideas out there to improve your business, your relationships, your life or yourself, and you'll even receive a link to a hidden page contained within the book that give you access to PDF files specially put together for you to help you take the ideas further.
And I want you to get the most out of the ideas contained within iSucceed: secrets for the average joe and jane so from time to time I'll be adding reports and videos to this bonus page.
Just what will you find there?
The Two Best Time Management Secrets
15 Recommended Audio Programs to Continue Your Study
A Mini-Summary of The Laws of Life
A Special Report To Organizing Your Library
And more
Click here (or here if you live in Japan) to reserve your physical copy.
For your ebook click here. (for the extra low price of $8.49)
And if you're a Kindle user click here.
On this site you'll also find three main areas:
Of course, if I can be of any help feel free to drop me a line any time. Just click the "Ask Adrian" button up above, type in your question or comment and I'll get back to you just as soon as I possibly can.
To Your Success,
Adrian Shepherd
PS – Don't wait for a catastrophe to start turning your life into what it was meant to be.  Order this book and start to live your true destiny.  This is the first step.
PPS – Remember, you have my total 100% guarantee for a full 3 months, so there is absolutely no risk!
Click here (or here if you live in Japan) to reserve your physical copy.
For your ebook click here. (for the extra low price of $8.49)
And if you're a Kindle user click here.